Love Bugs
Wednesday, September 19, 2007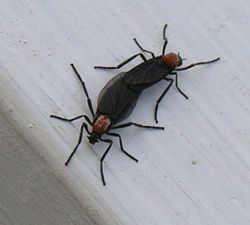 The love bug (also known as march fly, honeymoon fly, telephone bug, kissybug and double-headed bug) (scientific name Plecia nearctica) is a small flying insect common to the southern United States, especially along the Gulf Coast.
It is most often known as a serious nuisance to motorists driving at high speeds when the insects spatter on their windshields in great numbers.
Upon reaching maturity the love bug spends the entirety of its life copulating with its mate, hence its numerous romantic nicknames. The male and female attach themselves at the rear of the abdomen and remain that way at all times, even in flight until the female lays her eggs. This is done twice a year. The spring swarm occurs during late April and May. The summer swarm occurs during late August and September. Swarms extend over periods of 4 to 5 weeks. Mating takes place almost immediately after emergence of the females. Adult females live only 2-3 days.
There is a hypothesis that love bugs give a clue as to whether there is going to be an active hurricane season. Florida, in 2004 saw a lot of love bugs prior to an active hurricane season. In 2005 and 2006, there were fewer love bugs and the state had relatively quiet hurricane years.
This year (2007), in May, there are loads of love bugs and it is predicted that the Atlantic is to have a very active storm season from June to November. However, many people theorize that the lack of love bugs in 2005 and 2006 was merely the result of the active hurricane season in 2004 and that the love bug population in 2007 is merely the species at its full force.
Wikipedia gives more info and pictures if you are interested. http://en.wikipedia.org/wiki/L
ove_bug