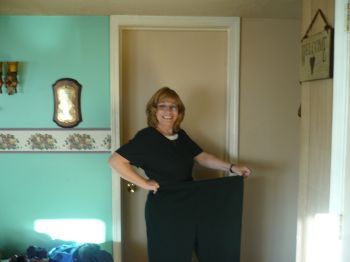 I did it!, I achieved a goal, that in September 2007 I would have questioned if it was to happen.
I joined SP September 19,2007 weighing in at 209, by January 2008 had lost 61 pounds...Hard to believe huh.
as of today, February 10, 2008 I weigh 144 an amazing 65 pounds lost thanks to finding SP!
this is embarrassing, but here are the facts
I lost 5 inches off my chest
I lost 7.5 inches off my waist
I lost 10 inches off my hips...( good grief)
I lost 4 inches off each thigh...dang talk about thunder thighs..lol
for a total of 30.5 inches!!!
I truly believe I couldn't have did it with even 1 of the components missing, I mean SP, the friends I made here, the exercises ( I have now traded 1 addiction for another, hehehe..I am an exercise junkie), and my determination, it wouldn't have happened.
SP made it possible with the food, fitness tracker, which kept me motivated and I tell you..when you post your weight for the world to see you will make it work!..lol It kept me focused, and motivated!
My friends here, who walked beside me ever step of the weigh...hehehe... who on my bad days kept me going, who noticed that 2 pound loss and praised me for it, and really placed in my mind something that I tell everyone now,
" a pound down is better then a pound up"
and exercising,
when your big, you cant just go to the gym and look like the " cute" little 20 year olds...lol
So I bought the gazelle, loved it...bought a body / stabilization ball OMG a new addiction, a trampoline, that I still have an occasional attitude with, and the best was getting on the " iron man" machine...OMG totally addicted to that.
I thank God that now I am better, I can enjoy getting ON my horse, and enjoy the time with my grand babies, and of course turning others on to SP..
and the best thing...is I am smaller then my HORSE...hehehe...
I believe with SP, and if you really really want it, the sky is the limit and you can do it...first off " believe in yourself".
The great thing that has happened since my weight loss is so much!
I mean at work people are now wanting to know more about SP they see it works!
My self respect, self imagine has improved 100 %
I am so excited for my friends here, they are doing so great...I know we are going to have to get together in real someday just to give each other the hugs and the praise we all deserve.
I lost my mom to cancer, and gained a whole lotta weight,
NOW I found me again!
and at 50....If I can do it...anyone can!